---
You could just go to the store and buy one, but the home made ones taste so much better. There are a few things to remember regarding this recipe. When I measure the 7 TBSP of crisco, it somehow works better when I do the 1/2 cup and take out one tablespoon (8 tbsp = 1/2 cup). Second, don't overknead. It just doesn't work. The third, is use the coldest water you can find. Fourth, when you roll your dough, if it isn't perfectly round, don't worry about it. Put it in the pie plate anyway. Take a knife and do your edges. What is left over from that, just patch it!












***** Perfect Pie Crust *****
ingredients
directions
1 cup + 2 TBSP flour

1/2 TEA Salt

7 TBSP
Crisco Shortening
(1/2 cup less 1 TBSP)

3 TBSP cold water



Mix dry ingredients. Add Crisco Shortening till crumbly. Make sure water is cold. Add water and mix till just moistened. DO NOT OVERMIX. Put inbetween 2 floured sheets of wax paper and roll. Spread in 8 or 9 inch pie pan.












thank you my wonderful mother-in-law for showing me how to make a wonderful pie crust!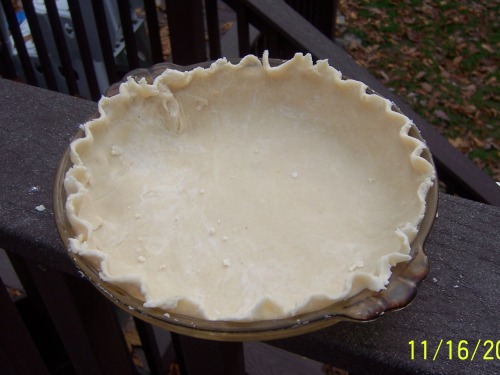 ---