---
Our soap business began in 1997.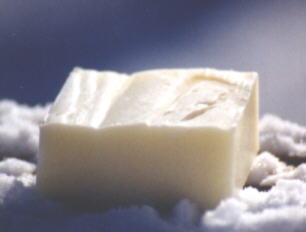 I had what I thought was chronic fatigue syndome (later found out it was lyme disease) and couldn't do much physical stuff. So I spent a lot of time on the computer researching different farmy type projects. Paul was doing christmas trees and I wanted something I could add to the farm also. I decided to try to make handcrafted soap. I had always liked to bake and cook so soap making was a natural. My first try was a recipe similiar to the one that I've given you on our website. And yes I did use a pizza box. It works! If you would like to try it, click here. I took the time to learn html and built our maplesprings.com. Since we opened our website till now, we've had over 1.3 million people visit our site.
I wasn't quite happy with my grocery store soap recipe so I bought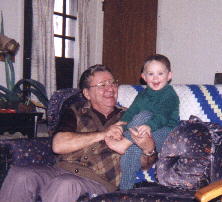 a few soap making books and started to experiment. You really do need the palm and the coconut oil for the lather and the hardness if you are serious about soapmaking. I spent a lot of time doing research. I had finally found a soap recipe that I thought was 'the one.' It wasn't quite dawn on that fall morning in 1997 when my recipe decision was made and the telephone rang. They were calling to tell me that my father who was a picture of health had dropped over dead of a heart attack. The lesson in this is that God never closes one door without opening another and I took it as a sign that this surely was 'the recipe'. We've stuck with this recipe ever since and simply change the fragrances and the 'stuff' we put in it. We used to sell it in individually wrapped bars. We had approximately 500 bars of 50 some different scents in the house at all times. In 2004, we decided to make some changes. Since the theme of our farm is 'fresh', we would like to offer something 'fresher' and utlimately more 'unique' to you, our customer. We now sell customized soap logs. You start with a fragrance, add a second fragrance, and then add 'stuff' to it. Try it, it's fun! We also sell the bars - but just not as many different scents.
The biggest reward about our soap making comes from the testimonials of the people who we've helped through our soap. There was one 8 year old boy with a chronic skin condition whose skin was so horrible that he hadn't been able to wear underwear since he was born. He suffered from terrible skin rashes. His mom took him to the dermitologist and they tried everything under the sun to clear up his chronic condition and nothing worked. My husband gave him some of our soap to try. Within 2 weeks, his skin condition cleared up, the rash was gone, and and he's a much happier boy!
For wholesale information, send me and e-mail to info@maplesprings.com .








---
---
---