| | |
| --- | --- |
| Harry, our 1st Hungarian Vizsla Dog | |
---
What is a Vizsla?
- A Hungarian Vizsla is a medium sized bird dog.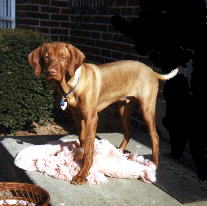 The breed originated in Hungary and was hunter and companion to the Magyar people for centuries. After World War I, they were almost extinct, and were smuggled out of the country to Austria before the Russian occupation in 1945. They first appeared in the United States in the early 1950's, and was admitted to the American Kennel Club Registry in 1960.
Appearance
- The Vizsla color is golden rust with matching eyes and nose. The hair is soft and short, with very little odor and minimal shedding. The tail is usually one-third docked. They stand 21"-24" tall and weigh 45-60 pounds, depending on gender and blood lines.
---
Personality
-
This is a great dog. Vizsla's are good with people, other animals, and children. I have never met a more sensitive animal, taking everything and everyone to heart. They shower their master with love, affection, and companionship.We can always expect to be greeted with paws on our shoulders and a kiss. Sometimes, I think Jake would be a lap dog if I'd let him! Vizslas are also very protective and loyal to their owners, thus making good watch dogs. With their sensitivity, comes a great deal of intelligence. And with their intelligence, coupled with their keen sense of smell, makes the breed excellent hunters. They excel in the area of pointing and retrieving. The Vizsla dog likes the outdoors (mine sits in the sun), but basically just wants to be with you, the master. Most of them like to swim , don't like the rain, and like to sleep under the covers near someone. They are truly members of the family.
Disclaimer- The "Vizsla" information afforded herein is based on our own personal viewpoints and need to be taken as such. Other breed specific information may be accessed through our link page.
---
Vizla Puppy
This is Harry as a puppy

Harry Smiling as Always
Hungarian Viszla
Harry was great with kids
| | |
| --- | --- |
| Harry Come on Let's Play | Vizsla Dog Man's Best Friend |

Harry likes to swim in Harry's Pond
| | |
| --- | --- |
| Harry Come on Let's Play | Harry in dramatic game of catch |
Vizla Dog
Harry full grown and ready to play

Harry loves it in the Mountains