---
Welcome to Maple Springs dog, wildlife, nature art print gallery. Our featured artist is Marie Girio Brummett. Marie is a native to Pennsylvania and has had many of her paintings featured on the cover of the Pennsylvania Game News. We are proud to offer her prints as part of Maple Springs Farm. Please note we simply sell her beautiful prints, she is not from Maple Springs Farm. The basset hound dog print is published from an oil painting which originally appeared as the cover of the February 2004 Pennsylvania Game News.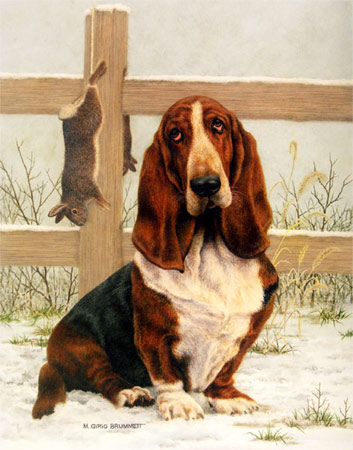 basset hound
artist
marie brummett





Overall Print Size 15" x 18"
Image Size 11" x 14"

350 s/n limited edition prints - $70.00



35 Artist's Proofs - $SOLD OUT


Color Remarques - $85 additional
(Based on a clear photo of your Basset Hound, if available)
Limited to 10.
If you are ordering a color remarque, this is not a funtion of the shopping cart.
You have to send me a picture. Please call 215-234-0812. Thank you.
Click here for further explanation of 'prints', proofs' and 'remarques'.

Printed on acid-free paper. Prints are shipped shrinkwrapped, flat, via USPS.
Shipping not included.
---
---
---