---
Welcome to Maple Springs dog, wildlife, nature art print gallery. Our featured artist is Marie Girio Brummett. Marie is a native to Pennsylvania and has had many of her paintings featured on the cover of the Pennsylvania Game News. We are proud to offer her prints as part of Maple Springs Farm. Please note we simply sell her beautiful prints, she is not from Maple Springs Farm. The rottweiler puppy dog print is published from an oil painting.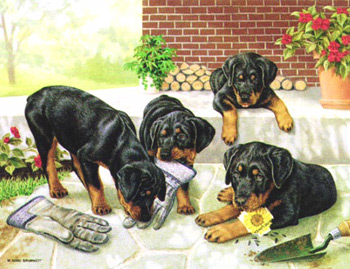 "gardening buddies"
artist
marie brummett





Overall Print Size Size 16 1/8" x 19 3/4"


500 s/n limited edition prints - $65.00
Your photo-reproduction of my original oil painting has been made with the finest equipment and materials. No more than 500 prints will be made in this format, and your print has been signed and numbered by me. Please keep in mind that this print, like all color images, should not be hung in direct sunlight. All dyes and pigments, whatever the medium, fade over time and the harsh light of the sun only accelerates this process. Properly framed your print will give you many years of viewing pleasure.
Click here for further explanation of 'prints', proofs' and 'remarques'.

Printed on acid-free paper. Prints are shipped shrinkwrapped, flat, via USPS.
Shipping not included.
---
---
---