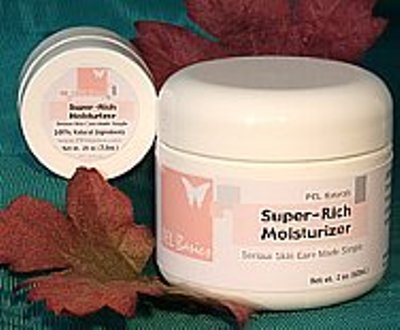 Natural Super Rich Moisturizer

With one jar Super-Rich Moisturizer will become an essential part of your everyday regime. Once you've tried this indulgent all natural formulation you will not believe the contrast in your skin tone, skin texture and the effect that this crème has on wrinkles. We are all caught in the grasp of skin damaging effects. The sun, wind, pollution, dieting, smoking, alcohol, everyday contact with harmful chemicals and even stress are unavoidable. The least we can do is to give our skin a fighting chance with a weapon like Super-Rich Moisturizer. Arm yourself with this amazing anti-wrinkle and anti-aging cream.

Super-Rich Moisturizer will help to diminish wrinkles, reverse the signs of aging, nourish your skin and best of all this will all be accomplished using only natural ingredients.

Directions: Apply a small amount twice daily (or as needed) to soften and nourish dry skin. Can be used on all skin surfaces. Will not clog pores.

100% All Natural Ingredients
Purified water
Dromaius Emu Oil
Virgin Olive Oil
Shea Olein
Hemp Seed Oil
Camelina Oil
Aloe Vera
Camomile
Ginkgo Biloba
Vitamins C and E
Vanilla Flower

"Pel Naturals
Super Rich Moisturizer"
"Size - .5 oz"
Super Rich Moisturizer
Price - $4.95



"Pel Naturals
Super Rich Moisturizer"
"Size - 2 oz"
Super Rich Moisturizer
Price - $33.00


A new US patented technology has allowed the production of a stable anti-wrinkle cream based on herbal extracts, natural ingredients and a combination of plant oils as well as a 40% emu oil base. This fusion of perfectly balanced elements allows for the rejuvenation of damaged skin. Super-Rich Moisturizer will moisturize and hydrate your skin, help regain lost elasticity and stimulate the collagen fiber network to regain tone and firmness.

After a 28 day test period volunteers who applied Super-Rich Moisturizer twice daily used phrases to describe their skin such as "smoothed out", "more flexible", "awake" and "younger looking". Analysis of the test results showed "reduced depth of medium to deep wrinkles and clearly diminished wrinkled areas".

The natural acids in Super-Rich Moisturizer exfoliate dead cells from the epidermal (outer) layer of the skin. The active ingredients stimulate cell growth, increase healing rate and protect against free radicals. The omega 3 and omega 6 fatty acids provide moisture, softening and protection. The strictly plant-derived herbal extracts rejuvenate the skin and have a triple firming action. All of this combined with the optimal transdermal effects of oleic acid forms an environmentally friendly product with high anti-wrinkle efficiency and no side effects.

Super-Rich Moisturizer is here and we're sure you'll love it. This luxurious cream looks and feels like whipped butter. It will glide onto your skin smoothly and leave no greasy feel behind. Perfect for under make-up or alone, night or day, you'll soon make this product a "must have" in your daily ritual.

Pel Naturals is a division of Purple Emu - purpleemu.com.
---